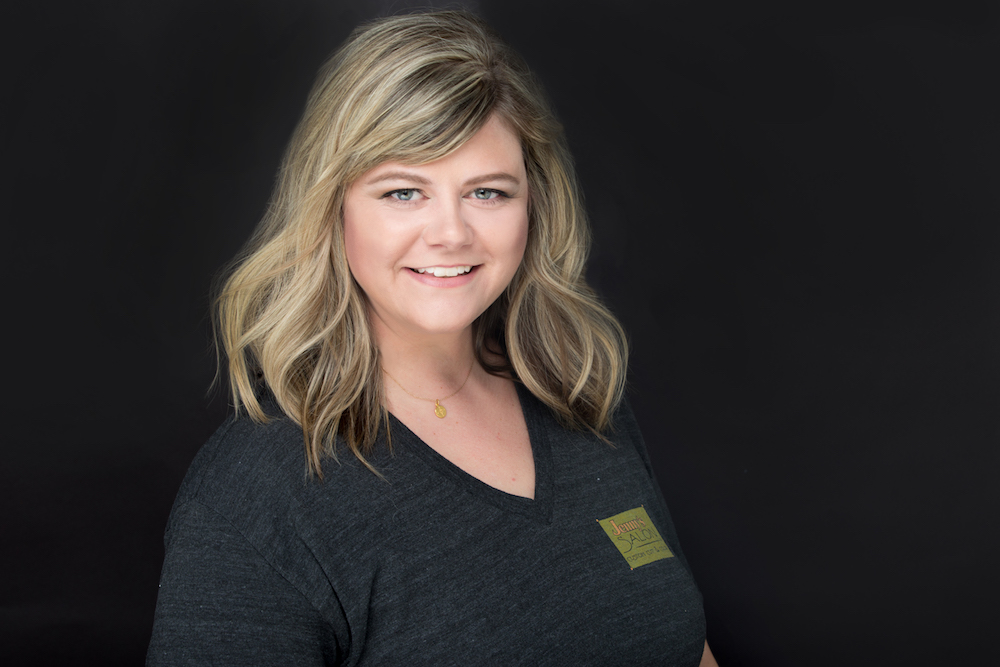 "I am the painter of a living canvas"
How long have you been at Jenny's
Day One
Specialty
Dimensional hair color
Years in the industry?
24 years
What can clients expect that sets you apart?
Clients can expect adjustments to their hair color based on changes to skin tone and seasonal/trend changes. I pride myself on giving a fresh perspective each visit.
Fun Facts/Favorites/Hobbies
I love orchids and plants and my dogs and cats. I also love Netflix.
Owner of Jenny's Salon, Jenny Grafton incorporates various color categories and application techniques at her busy Purcellville salon. She shares how she makes the most of every salon moment with practical "never fail" color formulas from numerous manufacturers. Her passion for color and artistic flair have gained her a reputation as an industry leader in conventional, corrective and fashion blonding techniques.
Jenny has completed a Davines Flamboyage class on ombré color, Davines product knowledge classes and Aquage updo class.
"Color should be visually stimulating. Blonde doesn't have to be boring." – Jenny Grafton, WHERE Dulles Corridor, Fall/Winter 2003-2004.
Getting Your Clients Started with Gray Hair Coverage – CMBScene, September/October 2006
Jenny has completed the following professional classes:
Sahag Master Dry Cutting Class
Living Proof Style Lab Cutting and Finishing Class
Academy Ramirez Tran Color Academy
Our assistants are licensed, trained and highly qualified in all areas of hair care. It's not unusual for them to perform glazing, shampoo treatments and blowdry to assist our stylists and ensure that your time here is efficient as well as enjoyable.
If you would prefer not to have an assistant perform any of these tasks, please let us know by requesting a consultation prior to your appointment. Understand that by deferring the help of an assistant, more time will be needed during your appointment. This applies to all stylists, including Jenny.
THERE IS A $50 FEE FOR NO-SHOWS OR CANCELLATIONS WITH LESS THAN 24 HOURS NOTICE
| Hair Styles | Price |
| --- | --- |
| Women's Haircut & Style | $66 |
| Men's Haircut | $41 |
| Kid's Cuts – Girls *(10 and under) | $38 |
| Kid's Cuts – Boys *(10 and under) | $38 |
| Dry Cut | $88 |
| Deva Curl Cut | $83 |
| Blowout - strictly a shampoo & blowdry | $61 |
| Formal Style - is anything requiring hot tools, braids, flat iron or pinning of any kind. This includes 1/2 up & down. If you wish to update your blowdry or add any of the above it will be considered a formal style & will be charged as so. | $102 |
| *all style services include shampoo and style | |
| *kids cuts are for 10 and under only | |
| THERE IS A $50 FEE FOR NO-SHOWS OR CANCELLATIONS WITH LESS THAN 24 HOURS NOTICE | |
Hair Textures
Price
Relaxer
$148
Relaxer Retouch
$103
Perm
$168
Spirals
$168
Brazilian Blowout Treatment
$278
Keratin Fusion Thermal Curl Reduction
Using a flat iron, reducing curl by up to 90% and imparting shine.
$278
Conditioning
$55
*all hair texture services include a complimentary blow-dry.
THERE IS A $50 FEE FOR NO-SHOWS OR CANCELLATIONS WITH LESS THAN 24 HOURS NOTICE
Hair Color
Price
Single Process Color
$111
Partial Highlight
$138
Full Highlight
$166
Corrective
$203 & up
Double Process Blonde
$188 & up
Opalex Bond Multiplier
$55
Glaze *does not include blowdry
(blowdry must me booked separately)
$66
Balayage Hair Painting
provides a "beachy" look.
$265
Ombré
"Rooty" way to lighten lengths and ends while preserving the roots.
$265
Color & Highlights
$241
Brow Tint
$15
Accent
$8
*all color services include one complimentary glaze.
THERE IS A $50 FEE FOR NO-SHOWS OR CANCELLATIONS WITH LESS THAN 24 HOURS NOTICE